CINEMATIC LIGHTING
AND SET DESIGN ONLINE COURSE BY ANDBERY
Learn to make cinematic videos with professional
lighting and working with set design.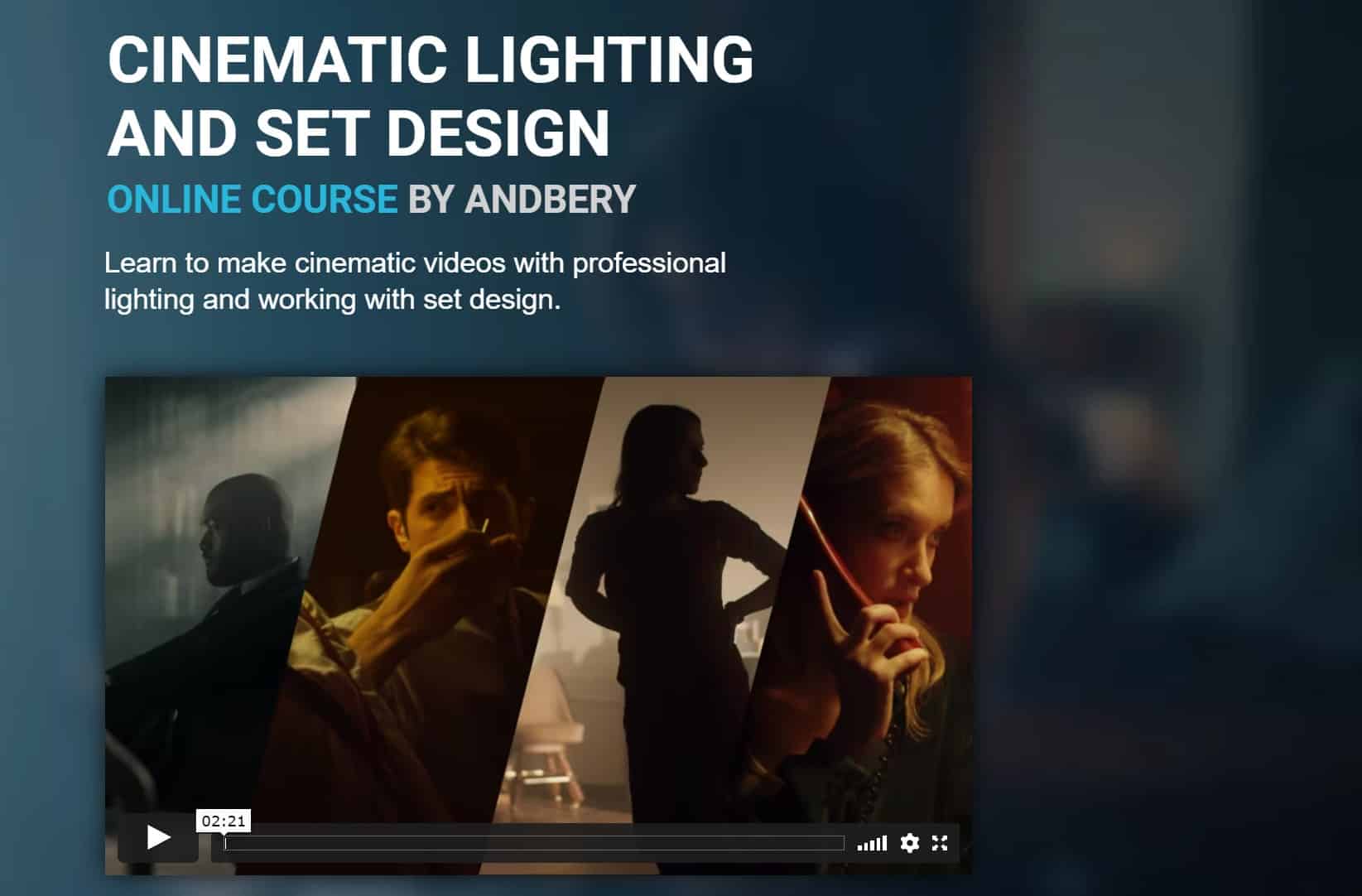 Everyone can make a video, but how many people can make the video beautiful and cinematic? In order to upgrade the visual level of your video works, you need to work with lighting and set design like a pro.
The goal of this course is to help you improve the quality of your shots, so that in the long-term prospective you can sell your service for a higher price or to have a partnership with big brands that will appreciate your style. I sincerely believe that the skills of working with lighting and set design helped me enter the movie world, big advertising, music videos with celebs and build partnership with world-famous brands such as Blackmagic, Lite panels, Godox, Hollyland, Tiffen company.
"WHAT WILL I LEARN?"

You will learn how to come up with your own lighting schemes. Learn to deeply analyze the light when working with references shots. You will learn to make cinematic light using a variety of simple techniques and tools that I will share and demonstrate. You will master the basics of set design which will help you create stunning and expensive shots using tools to influence color, location, props and composition.

"WHO IS THIS COURSE FOR?"For aspiring cinematographers and DOP, filmmakers, who want to improve their lighting skills, YouTubers and independent filmmakers. The skills from this course will be useful in: advertising, music videos, films, interviews, fashion, art projects.
INCREDIBLE STORY OF MY STUDENT
I want to share one of the most inspiring stories of my student, Vlad. Vlad lives in Qatar, he moved there from Ukraine. Shooting different video content in Qatar, Vlad set out to improve his skills in working with light in order to get into the world of film and TV production. He came to me.
Once on my course, one of my homework task was to find an interesting and spacious place in order to work out the character's universe with the help of props and the atmosphere of the room. Thus, Vlad ended up in a local film studio with a request to shoot this homework. Why not?
On this shooting, Vlad put his maximum effort and patience into his homework. And know what? The studio producer watched the homework footage and invited Vlad to work as a cameraman on the TV series. This is how Vlad got into the world of cinema.
A few months later, Guy Ritchie flew to Qatar with his film crew, and unfortunately a member of the camera crew department got ill with Covid. Guy Ritchie asked the producer of the same studio where Vlad worked to find a replacement for the camera crew department. This replacement was Vlad. Thus, Vlad filmed his first film project in Qatar and Turkey with the team of Guy Ritchie. It was 2020!
WHAT'S IN THE COURSE:
20 tutorials of high-quality classes to enable you to start working with lighting and set design / Free updates of the course
Access right after purchase / Lifetime access to classes
Email support. You can ask me your questions
Homework after classes checked by me
Diagrams, manuals
Analyzing home works of students
Free updates of new and exclusive videos of workshop
This course consists of four chapters and has four homework tasks. Each chapter has theory with video materials and practical tasks. Your main purpose is to watch all material and do all practical homework. It can look like a practice of materials of the course at the actual, commercial projects or art projects.
Introduction
#1.1 Lighting and set design
#1.2 Light and shadows contrast
#1.3 Lighting ratio / tone of lights
#1.4 Warm and cold contrast
#1.5 Dense atmosphere contrast
Homework #1
#2.1 Visual storytelling
#2.2 Work with props / composition
#2.3 Color harmony
#2.4 Scouting
Homework #2
#3 – Grip and Light sources
#3.1 Type of light sources
#3.2 Negative fill and black flags
#3.3 Soft diffusion
#3.4 Bounce light
#3.5 Grip manual
Homework #3
#4.1 My rules of working with lighting
#4.2 Lighting techniques
#4.3 Light schemes
#4.4 Work with a script
#4.5 The final
Homework #4
Andrey Beresnev
CINEMATOGRAPHER
I have worked in the industry since 2013. I worked on many music videos, docs, commercials and movies. And for several years, I have understood that we can make beautiful works using the lighting and set design. This is very important knowledge for any cinematographer. And I'm happy to share the knowledge of light and set design that I collected during all my career with you.
WHAT WILL YOU NEED FOR THE PRACTICE?
You need light sources! When I started my light training, I didn't have the money to work with expensive equipment, so I used the cheapest lighting sources for my videos. I offer you three solutions to this problem.
1. The first, if you have the opportunity, use all possible and available light sources that your budget allows. We are talking about the rental of lighting sources and grip system.
2. The second way is to get some of the cheapest 500-1000W tungsten "halogen work light" with dimmer. This power will be enough to work on medium and wide shots.
3. The third way is buying a lighting source. And here I can advise you very cool LED sources of the Apurture, Godox, Nanlite brands.
Also, you can practice all materials with natural light sources. The sun is very cool and free light source.
For practical examples of this course, I use devices such as: ACE 650W, Godox 300VL, Godox 150W, Arri 1200w