Acidbite – Complete Acid Collection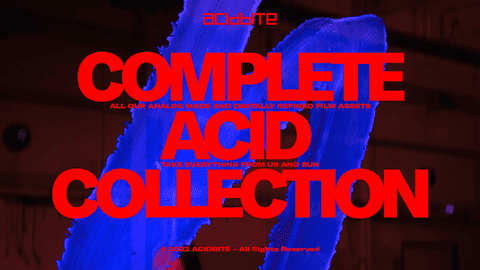 2500+ assets (4K ProRes files)
Film Transitions, Overlays, LUTs, SFX, Graphics, Textures and many more
Everything you need in one big bundle
Speed up your workflow & save time
Easy to use
Detailed tutorials
No plugins required, works in Adobe Premiere Pro, Final Cut, AE, DaVinci Resolve and more!
CINEMARKERS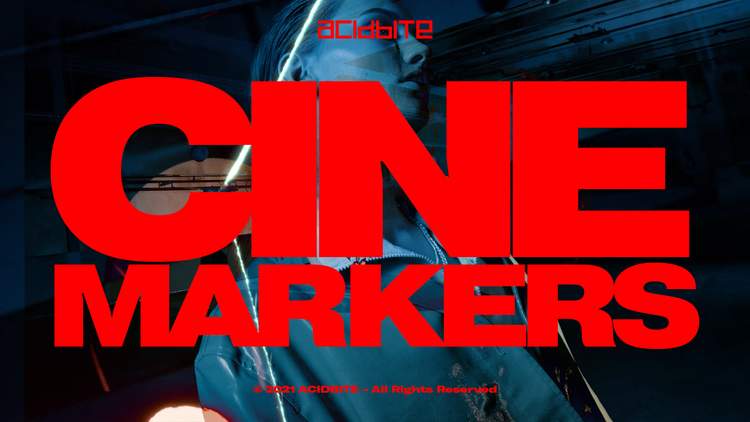 Oh, the old days when crazy film editors tagged away on their editing copies to keep track of shots. That's what you'll get here. All those cig-burns, tags and scribbles scanned from real 35mm film.
MORPHEUS
Red pill or blue pill? It doesn't matter to us! With our MORPHEUS, you don't have to choose. Glitch between the worlds at will.
PUNCH HOLE TRANSITIONS
30+ pre-keyed textures and 8 pre-built transitions to punch your film into other people's brains!
DYNAMIXXX
We played around with good old analogue film, a lot of chemical fluids and handy tools to give you a wide variety of grungy film textures and overlays that let you master the pace of your videos.
CYBER TRANSITIONS
Let's get it out of the way. These transitions are so trippy you probably shouldn't watch them under influence.
BURNING PAPER TRANSITIONS
Handcrafted practical transitions including sound design to fire up your transition game!
DYSTOPIA SFX
This sound pack is for all lovers of dark and vivid soundscapes. It also contains all SFX from our Transition Packs as a bonus.
TUNNEL TRANSITIONS
Travel through the vortex, inside the wormhole, into the guts and through the jet stream. With these transitions you can warp through space, time and your timeline.
CINE LUTS
There's no easier way to get a unique style for your shots. It's so simple. Just add the LUTs and make your footage look terrific. These looks are the ones used in our teasers!
CINETIXXX
Energetically moving bodies of text, letters rubbing against each other. These fully customizable and powerful animated title presets go for anything from home video to naughty studio productions.
THE ULTIMATE 35MM PACKAGE
This pack is so complete we call it ULTIMATE. More than 120 Grains, Burns, Gates, Transitions, Textures & Overlays scanned from real film. If you ever get a pack from us, it should be this one.
FILM LEAKS[Not Include]
Start your leaky business with 30+ different and unique film leaks. Usable as transitions, textures or colorful wiggly overlays.
ELEGANT LUTS [Included 2023/6/30 UPDATED]
With this pack, you get both stylish pastel looks and colors that will knock your teeth out.
LIQUIDS
This pack gives you the most floaty visual textures. Use them as backgrounds on set or green screen, for titles, for projections or print them out and use them as wallpaper.
ELEMENTS SFX [Included 2023/6/30 UPDATED]
Sound for your ears, your heart and any of your projects. Water, fire, wind, music and sounds of the earth. These are the most versatile sound design elements out there.
CRACKED GLASS TRANSITIONS
Crack open your shots like cold ones with your friends on a Friday summer night.
ABSTRACTS[Not Include]
Is it a tesseract, is it a hexahedron, an octachoron, heptahedra? These visuals are so abstract, you just can't tell!
16MM PACKAGE
You've seen it somewhere else before, yes. It's a 16mm pack. But behold! This one is different!
VIEWFINDERS+
This pack features film camera viewfinder ground glasses inspired by real 35mm and 16mm cameras, CRT and clean versions. The greatest variety of viewfinder options you'll find out there.
LETTERBOXES+
These are real film gates disassembled and broken down for maximum adaptability and creative potential. The ultimate Filmmaker's toolkit!
WIPE & LIGHT TRANSITIONS
A few moving frames between two shots are the digital equivalent of sniffing solvent from a bag behind the train station. It will give you a short kick and make things easier.
TORN FILM TRANSITIONS
Film. Torn. Cut. Ripped. Scanned. Digitally glued together. Your turn!
FILM BURNS
Differently colored film burns shot on Kodak 8mm Stock and scanned in open gate 4k resolution! You can use them either as textures or as transitions.
ANALOG VIDEO PACKAGE
Upscaled and digitized 90s and 2000s video gear textures to add that extra vintage look to your project!
SUPER 8 PACKAGE
Authentically scanned and digitized 8mm film textures to add that extra film look to your project!
PRE-BUILT VHS TRANSITIONS
Switch between your shots like your daddy switched TV channels back in the 90s.
PLATES
A collection of retro futuristic title designs including 16mm film, CRT motion designs & super dirty 135 B/W photo scans.
ELEGANT LUTS
(INCLUDED 2023/6/30 UPDATED)
With this pack, you get both stylish pastel looks and colors that will knock your teeth out.
18 different looks in soft & hard variations
556 different LUT files
14 different Log formats + REC709
Utility LUTs
Drag and drop use
Detailed tutorial and examples
No plugins required, works in Adobe Premiere Pro, Final Cut, AE, DaVinci Resolve and more!
FROM:Acidbite