Embrace FX Modest Muse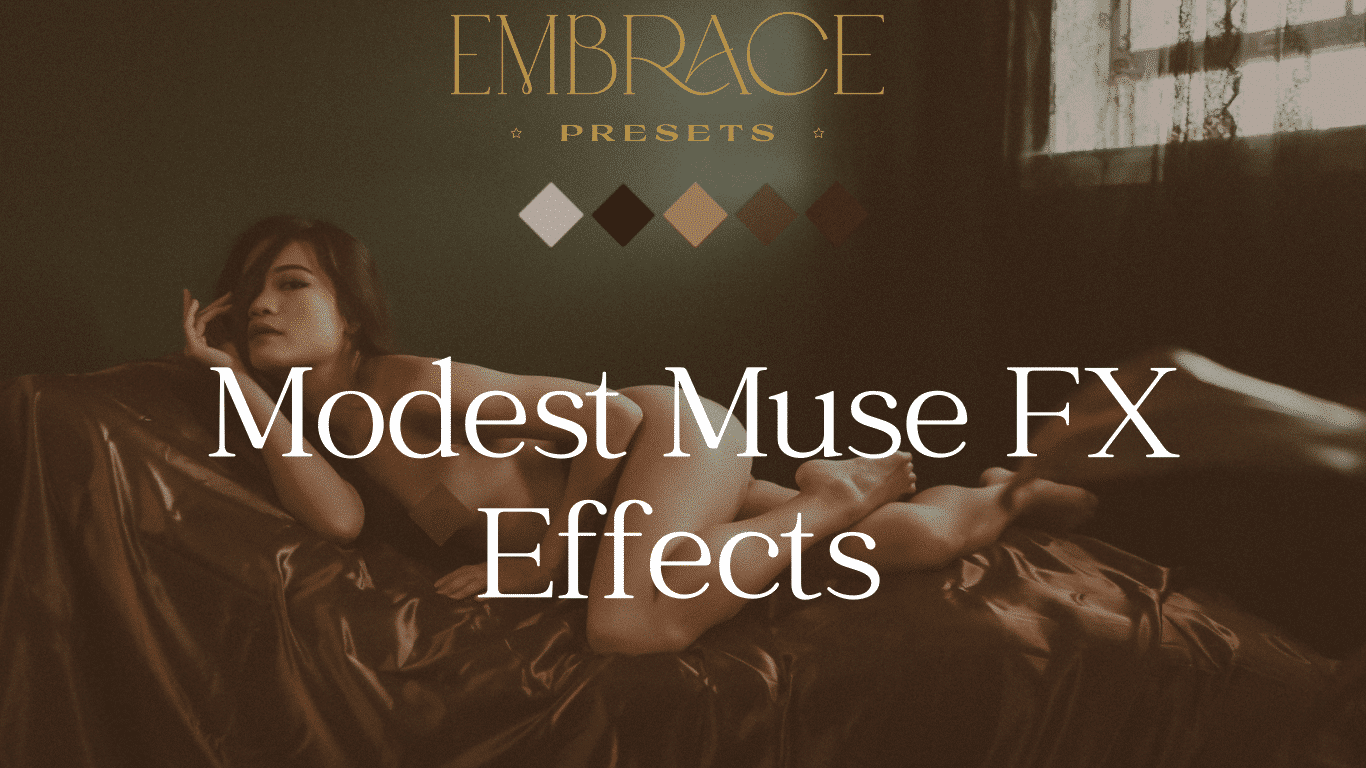 Discover EmbraceFX "Modest Muse Lightroom Effect Pack" – Empower Your Art & Share Your Boudoir Photography with Confidence
As a fellow female photographer, I understand how important it is to create empowering, intimate, and sensual moments for our clients. Our passion for boudoir photography allows us to reveal the inner beauty and strength of the people we photograph, and our images deserve to be shared with the world. But, as you know, sharing these stunning images on social media can be challenging due to censorship.
That's why I've poured my heart and soul into creating the perfect solution – the Modest Muse Lightroom FX Effects. Designed with the creative spirit of boudoir photographers in mind, these Lightroom effects empower us to share our art on social media without compromising our artistic vision.
Imagine effortlessly applying a range of unique overlays to your photos, right within Lightroom! No more time-consuming Photoshop editing. With the Modest Muse Lightroom Effect Pack, you'll have access to a collection of 23 captivating overlays, including:
Whimsical Cannabis
Add a playful and trendy touch to your images with this discreet cannabis plant overlay.
Serpentine
Embrace the mystique and power of the snake, adding an edgy, yet alluring touch to your photos.
Celestial Stardust
Sprinkle your images with a touch of magic using these dreamy star overlays.
And much more!: Our ever-growing collection is designed to inspire and celebrate the diversity of boudoir photography.
By using the Modest Muse FX Lightroom Effect Pack, you'll not only adhere to social media guidelines but also elevate your boudoir photography to new heights of artistry. Your clients will feel even more confident and proud to share their images with the world.
As the only one of its kind, the Modest Muse FX Lightroom Effect Pack is revolutionizing the way boudoir photographers share their work on social media.
How to Use
FROM: Embrace Presets