Kelli Marie Connor – Profitable Mini & Specialty Sessions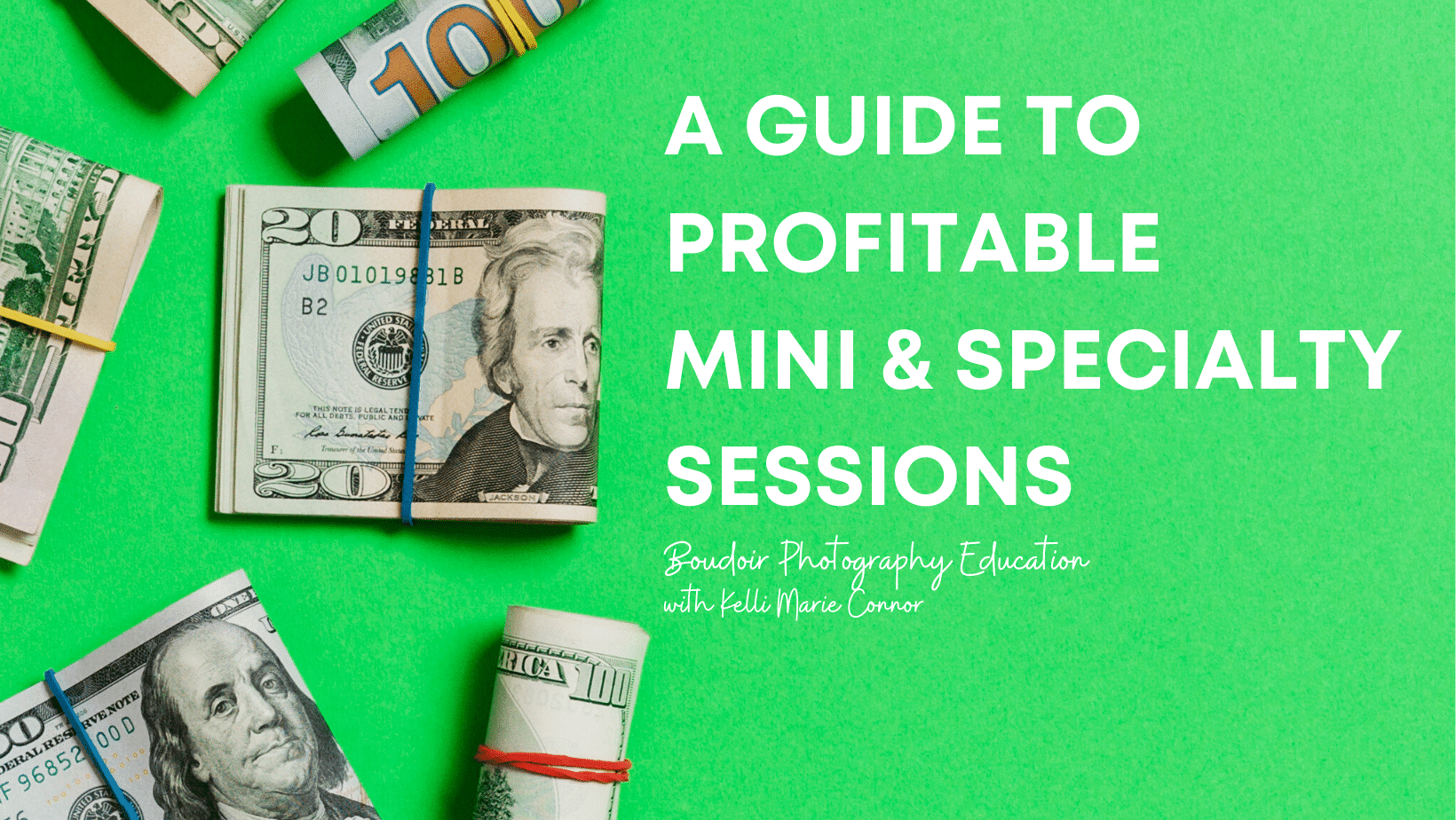 Ready to make some bank?
Let me show you the way.
Mini Sessions don't have to look like the "$250 including 10 digital files" that we see all too often on social media. Talk about running yourself ragged and making NO money! Ick.
So let me reach you how to launch seriously profitable promotions that will completely change the way you think about Minis & Specialty Sessions.
This Guide will have you running successful Mini and Specialty sessions in no time! 
Mini and Specialty Sessions sometimes get a bad reputation as "cheap" sessions but this guide is here to change that! In fact, my average sale on my Minis is typically close to the same as my full priced regular sessions, and I am only doing a small fraction of the work! It's truly mind blowing.
This course is applicable to all levels of photographers, whether you're new to the business and trying to get clients in the door or you're established and want to run something different and fun! This is even great for super successful studios who are looking to bring in MORE money in LESS time! Seriously, anyone can use the principles in this guide to revolutionize the way business is done.
Your Mini and Specialty Sessions can be just as profitable as a regular session. Yup! You read that right, just because the session is shorter does NOT mean it can't be just as profitable!
In this course we cover:
Why/When you should offer Mini and Specialty Sessions
How to reframe the way your clients view Mini and Specialty Sessions
How to properly market Mini and Specialty Sessions
Mini Sessions as a whole ass business model
Pricing appropriately
The difference between Mini, Speciality Sessions, and Model Calls
Structuring your day so you aren't exhausted afterwards
Booking made easy
The Voucher Method
How to work in Hair and Makeup
Contract additions and considerations
And More!
If you think you know it all, think again!
Introduction
Highly Recommended Course Supplements
BouDIY
Bad Reputation
Why Offer Mini Sessions
Working with Intention
Working With Intention Worksheet.pdf
Mini Sessions as a Complete Business Model
Minis CAN be Luxury!
The Difference Between Minis, Specialty Sessions, Model Calls, and Full Price Sessions
Mini Sessions vs. Specialty Sessions
Mini/Specialty Sessions vs. Full Priced Sessions
Mini/Specialty Sessions vs. Model Call Sessions
Limited Luxury Sessions or Destination Sessions
When to Offer Minis & Specialty Sessions
When to Offer Minis & Specialty Sessions
The 4 Quarter Method
The 6 Month Method
The Monthly Method
Ideas for Specialty Sessions & Minis
Ideas for Themes
Bonus Sets as Minis
Themes Worksheet.pdf
Marketing
The Importance of Hype
Preparing for Launch
Scarcity Marketing
Scarcity Marketing with Online Booking
Conditioning Your Audience
Marketing a Year of Minis
Focused Marketing
Images for Marketing
How Far in Advance to Market
Social Media Copy
Hair/Makeup & Wardrobe
Hair and Makeup
Consider this…
Wardrobe
HMUA as Assistant
Getting Clients to Opt-In on HMUA + Script
Scheduling for Multiple Clients in a Day
4 Customizable Schedule Examples
How Much Time Should Be Included?
Session Fee Pricing for Minis & Specialty Sessions
How to Decide What to Charge
Mini Session Fee
Upselling on the Session Fee
Factoring in Shooting Space Costs (with or without studio)
Pricing Menu for Minis & Specialty Sessions
Modified Price List
Digital Files
Ideas for Specialty Products
Pricing Sheet Example
Mini Guide How To Pricing Sheet.mov
Collections
Minimum Purchase Requirement
Deciding What To Charge Worksheet.pdf
Booking
The Voucher Method
Terms & Conditions
Terms & Conditions [Copy]
Voucher Form Set Up & Workflow Integration – Dubsado.mov
Pre Session Preparation for Effective Minis
How to Quickly & Easily Warm Clients Up
Pre Session Email Template
In Person Prep Script
Pre Session Phone Script
Pre Session Payment Plan Bonuses with Minis?
How Many Poses for a Mini?
In Person Sales
Same Day IPS for Minis
IPS Process for Minis
Getting Your Mini Clients Booked for Full Sessions
Getting Mini Clients to Book Full Sessions
Mini Session Issues & How to Prevent Them
Self Care During Minis
Average Sale
Under-Booking
Real Examples of my Past Promotions
August 2019 Mini Pricing
2020 Waterfall Specialty Sessions
2020 Beach Specialty Sessions
2020 Beach Week Destination Sessions
Free Canva Templates
Instagram Story Template
Facebook Post Template
Facebook Cover Template
Specialty Session Prep Guide Template
My 2023 Valentine's Day Mini Launch (NOT INCLUDED)
FROM: Kelli Marie Connor